22.12.2015
News from Okinawa, Japan und Gangjeong/Jeju-do, Südkorea: 2 moderne Kriegshäfen für die USA

22.12.2015
Mayor Cho Kyung-Chul was re-elected
Posted by Save Jeju Now | Tuesday, 22 December 2015




Photo by Pang E. M./ re-elected mayor Cho Kyung-Chul



Photo by Pang E. M. /More than 400 people gathered for the vote

Cho Kyung-Chul, the current village mayor was re-elected as the next two years' mayor on the rainy day of Dec. 16. Around 400 of 1,000 village electorates gathered for the vote, which was the 2nd biggest meeting for vote since Aug. 20, 2007 when more than 700 electorates gathered to express 'no' to the base project. Cho, a strawberry farmer and former co-vice mayor, has been a mayor after Kang Dong-Kyun, since Dec. 2013. On Dec. 16, there were three candidates including Cho. Since nobody got more than half votes on the 1st vote, there was the 2nd vote by which Cho and the 2nd candidate had to compete again. The result was only 18 vote gap between the two. Cho Kyung-Chul, the re-elected mayor had the words of thanks to share with other people. The below are some excerpts (translated) from that. (See the original Korean with more photos, here)



Photo by Pang E. M./ Three candidates



Photo by Pang E. M./ ex-mayor Kang Dong-Kyun is now a chairman for the election management.

"There is what I greatly realized through this election.

It is the realization that even though the naval base is just before its completion, the [three candidates], regardless of con and pro-base, consider the destruction of the Gangjeong Sea and Gureombi rock painful and that they acknowledge that villagers have made noble sacrifice to save the village community.

Further, they resolutely refuse to the navy's attempt to occupy village or to expand its power. Only with the difference on solving problems, all three candidates expressed strong will of opposition to it. And even the pro-base supports did not raise opposing opinions to the three candidates' such expressions and voted to one of them.

In conclusion, one can say that regardless of con and pro-base, the Gangjeong villagers have common awareness in resolutely refusing to the extension of naval base or designation of military restriction zone.

I consider those facts very seriously and will do my best not to allow any of the navy attempts on additional encroachment of the Gangjeong village.

Another will that the villagers showed yesterday was a hope for the village where young generation can settle and live and for a village environment where future generations can grow feeling safe.

I also urgently hope a village of autonomy not a village affiliated with the naval base. I will do my best to improve education environment, to make the villagers' long cherished projects to be smoothly worked out, and to demand projects by which the economy ability of the village can be improved and realized."



Photo by Choi S. H./ Even the community kitchen was filled by people.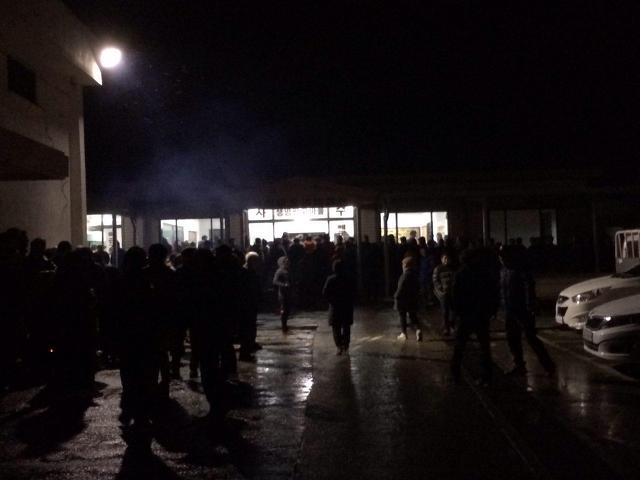 Photo by Pang E. M/ Villagers crowded in the rainy yard, too.